Botti Collection - lighting fixtures inspired by Chris Botti's trumpet
Christopher Stephen Botti is an American trumpeter and composer, one of the most creative inspirations for DelightFULL, a Portuguese lighting brand that combines mid-century style with jazz influences. Thus they created a unique design collection, the Botti series, a tribute paid to the famous musician. It comprises a range of luminaires inspired by the shape and sound of a trumpet. The Botti collection's particularity lies in its trumpet-shaped lampshades or sconces, often made of brass and meticulously crafted to recreate the elegance and fluidity of the instrument's shape. The metallic finish adds a touch of refinement and a vintage look.
Botti lamps often incorporate several trumpet-shaped lampshades, arranged in a cascade or branched, generating volumes with a surprising and dynamic visual effect. The objects are available in different sizes and configurations to suit various interior design options - pendant lamps, floor lamps, table lamps or wall lamps.
All lighting pieces are handmade in brass and aluminium by talented craftsmen who still use traditional techniques to produce these works of art. As we are talking about fully manufactured pieces, the brand allows its clients to customize the objects and thus add their own distinctive touch. Colour, finish (even gold plating), size, bulb type and light temperature are key features that can be customized. One of the brand's main goals is to raise standards in design and craftsmanship, a team fully dedicated to bonding with those passionate of mid-century style!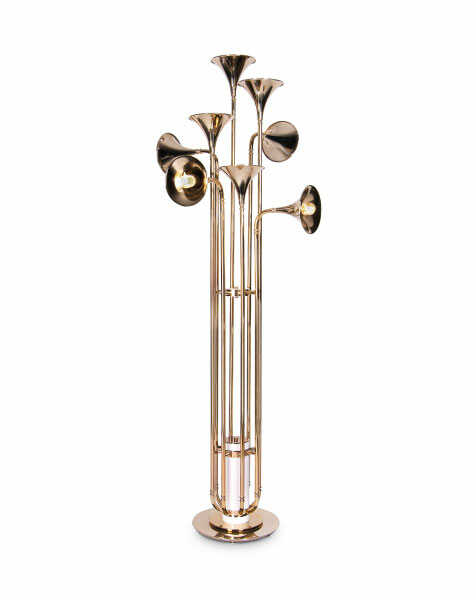 Mid-century art trends refer to the style of architectural, interior and product design that emerged between 1940 and 1960. It is characterised by clean lines, organic forms and a strong focus on functionality. Mid-century design is often associated with minimalist aesthetics, combining simplicity with a touch of elegance and refinement, just like the Botti collection.
The light generated by Botti lamps is warm, cosy, environmental and generous, enhancing the atmosphere of a space with a comfortable yet artistic touch.
The Botti collection lighting fixtures from DelightFULL have gained popularity among designers for their unique and eye-catching look. They have been preferred in various residential and commercial projects worldwide to create an elegant lighting atmosphere, as well as in luxury hotels, restaurants, bars, lounges with avant-garde design.